Easy peasy so far. Bottom line: I was shocked at how well the sound deadeners worked. I had been highly skeptical. I am a convert now.
Wiped down all surfaces with mineral spirits and blue paper shop towels to degrease per instructions. Re-wipe surface with clean microfiber to remove crud-glaze, not in instructions. Apply Noico 80 mil using serrated or corrugated wheels per Noico instructions. Smooth wheel would have been easier.
My application strategy was a version of stealth design, imagine breaking up sound waves coming from many directions, taking into account the natural flex patterns of each body panel. Noico says 25% is good? So you'll see sections where I went with vertically-oriented rectangles, others on a diagonal, others square, etc. My pattern was no pattern, but right-left side bi-lateral symmetry to the extent possible. Also, you'll see consistent channels on the roof where I left room for the 12/2 tinned copper marine cable I am using for the electrical load skeleton. There's some 12 AWG silicone jacketed tinned copper strand wire for splices.
The non-metallic liquid tight conduit is for a future 110 AC run to the rear. I used Noico RED and releasable rubberized zip ties to fasten the conduit so it won't rattle. Not your father's zip ties!
The roof was less strategic. I covered as much as I could because Noico says you need to apply the RED on top of the butyl. The RED was for thermal insulation. I noticed little sound improvement from the RED install, but the vehicle does maintain its interior temperature better. The test was accidentally burning my fingertip touching the roof interior in a gap between the insulation. I am debating whether to tape the gaps. I doubt I will as I don't want to trap moisture.
Speaking of moisture, after wiping the cavity sealant out of the body panels to install the Noico, I dutifully reinstalled MB cavity sealant, aka cosmoline. I did not have a high pressure spray rig, so I heated the sealant with my old school halogen flood light (worked on the Noico too) and painted it on with a silicone basting brush. I was careful not to seal the weep holes at the bottom of the panels, which you can just make out in the pix.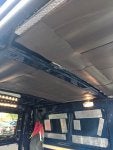 Gotta go, more as it develops! Ignore the wood. That's where the 80/20 will start.