Discussion Starter
·
#1
·
I know I am not an official automobile publication, but I have been published many times in various newsletters, newspapers, and even magazines that I think this is professional enough to qualify. Besides, many people who review cars can not provide the insight of the serially addicted Mercedes-Benz owner.
Sorry it took me so long to get this review done, but the first night, I was too excited, and yesterday… well this was the weather conditions that I had to work with.
Ah. That's better, right? Right.
I have documented everywhere why I purchased this van, but to rehash: I bought it because I wanted a vehicle that was decent on fuel, had the feel and safety of a Mercedes-Benz, and could take any task I threw at it and accomplish it. The truck had 10 miles when I took delivery of it two days ago, and 280 miles now. Which means it is not broken in, so I haven't had the pleasure to test its performance fully, and I am still getting used to driving it.
That being said, this car is distinctly like a smaller Sprinter. What do I mean by that? It looks, feels, and drives, like a Mercedes-Benz in taxi spec, writ large. Its all there. The solid handling, the effective (but slightly intrusive) electronic nannies, the distinct feeling of utter solid quality, a distinct sense of well engineered mechanicals- that are slightly clunky, heft and comfort that are extremely Teutonic in execution, and a distinct obsession with its pride of self. If you pick up any part from a Mercedes in a junkyard, you will know what car it is- a little three pointed star will be imprinted on even the smallest piece of trim- even in places you should never see. Silly showy example: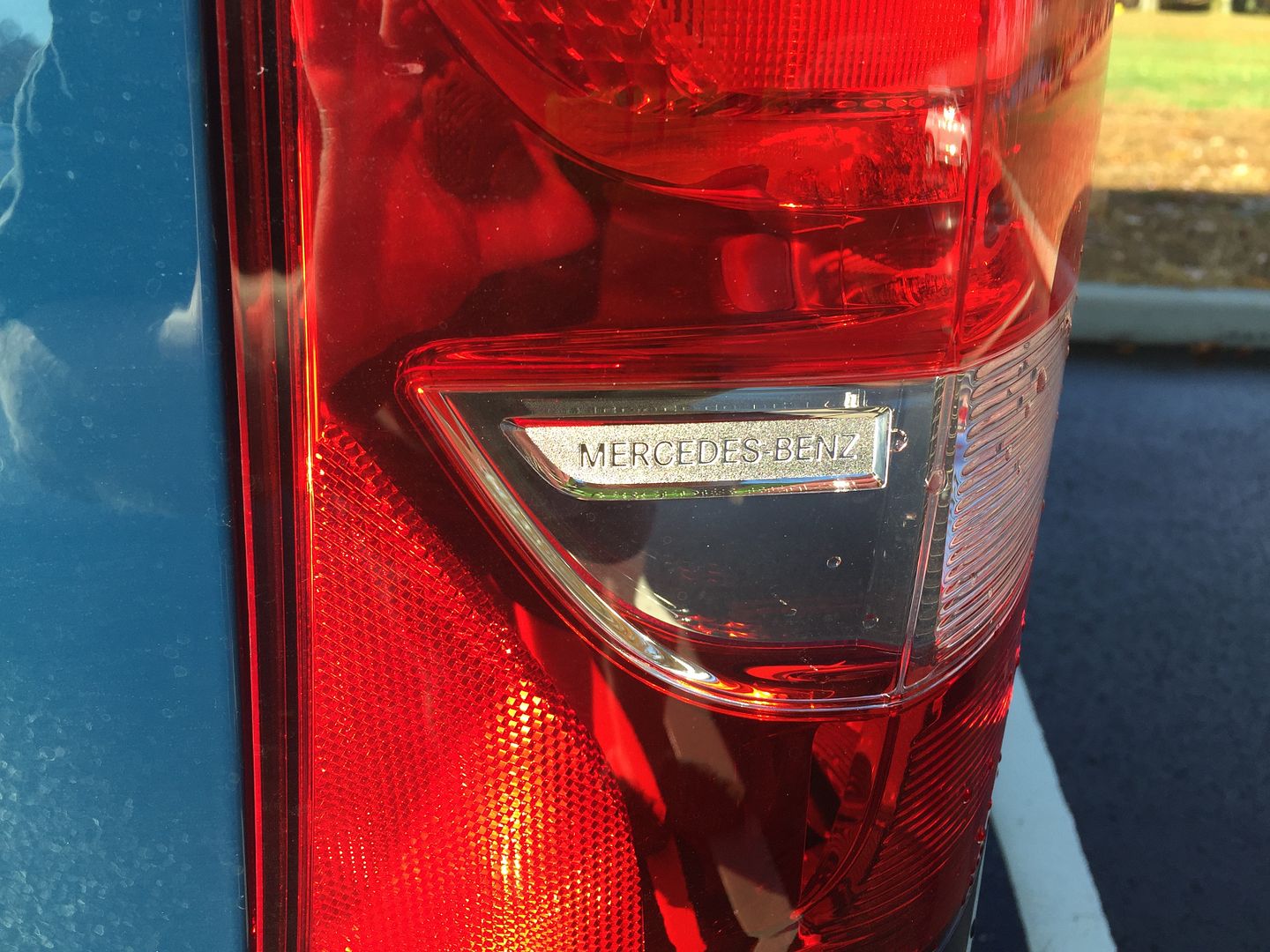 The solid feel reeks through out the vehicle, in every little piece. It sounds like a cliche- Honda builds solid cars, too, right? They do, more or less. But the Mercedes-Benz, of all other cars in the world, reek of it. Its the first impression you feel, and the most lasting. And in that respect, this Metris is every bit as much a Mercedes-Benz as an S-Class.
It is not a luxury car the way the S-Class is. It doesn't have quite the refinement, and the interior, with two exceptions, is not in any way luxurious. Its solid, well assembled, looks nice, and does not rattle- just like in the S-class. But the plastics are hard, my floor isn't even carpeted (I ordered it like that on purpose- its available for $730 extra along with more chrome trim and additional interior lighting), and it all looks functional.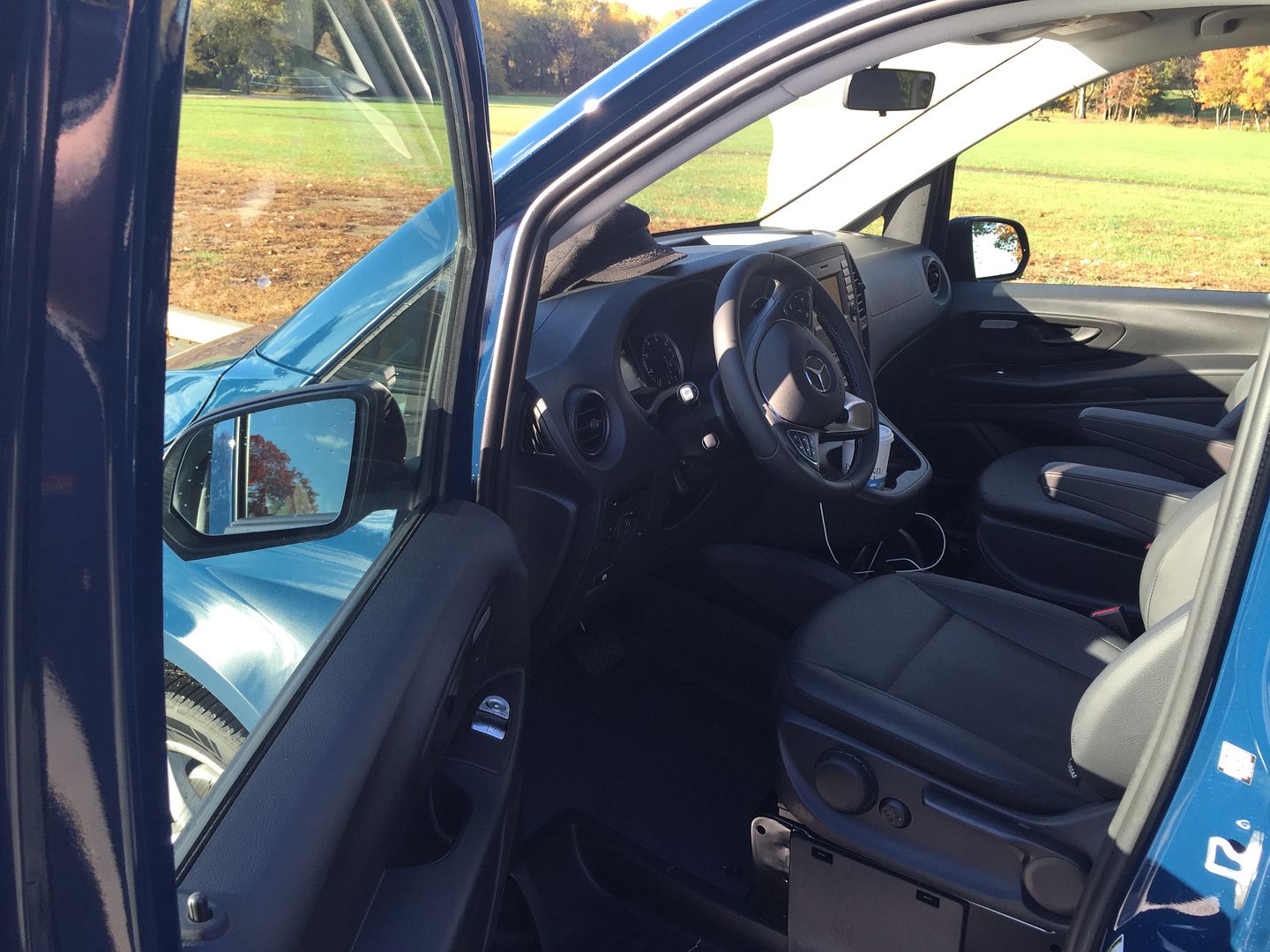 See? But everything works, and there is a distinct quality feel to every control. The grab handles are damped. You paid more for a Mercedes-Benz, and you will know what you paid for every day of ownership.
I mentioned two exceptions. The first exception is the headliner. It is a nicely woven (not flocked) cloth, like that found on Audi's of the early 2000s. It adorns the A, B, and C pillars (but not the D-Pillar) as well as the roof, and it feels like something you'd expect in a luxury car. And the second is the steering wheel.
It is the same steering wheel you'd get on a new C-Class. It is a $410 option stand alone, and its worth it. It has redundant steering wheel controls, of course. It includes a more comprehensive instrument cluster and trip computer. It has beautiful chrome work in various places. And it is beautifully wrapped in top-notch leather with beautiful stitch work. Interacting with the car through this steering wheel makes this car feel every bit as expensive and luxurious as an E-class. Touching the hard plastic door card is almost a let down comparatively.
The Comfort drivers seat is insanely comfortable, you sit up very high, and its adjustments are quite thorough. It is a teutonic seat, no question- very firm. But you can drive it for hours and still feel great. The comfort front seats are part of a $630 package, which includes the height, rake, and 4-way lumbar adjustment, and adds fore-and-aft adjustment to the headrests, as well as seat back pockets. The package, by the by, for some reason I can't fathom, also includes two extra keys (for a total of four).
My car has vinyl. I'm not sure why one reviewer thought it was "aromatic leather" (leather is not available, aromatic or otherwise). Its what Mercedes-Benz has recently started calling "vinyl", but what I refer to as "MB-Tex". Its a tough-as-nails vinyl that is not perforated in this instance- meaning its wipe clean, and you can get into the car soaked to the bone without damaging it. It is also much more textured than internet pictures let on:
I have very little in the way of objections about the quality of the interior, beyond saying that the plastic floor covering gets a bit slippery when wet- the bulk of that problem will be fixed when the $90 set of fitted floormats I bought arrive.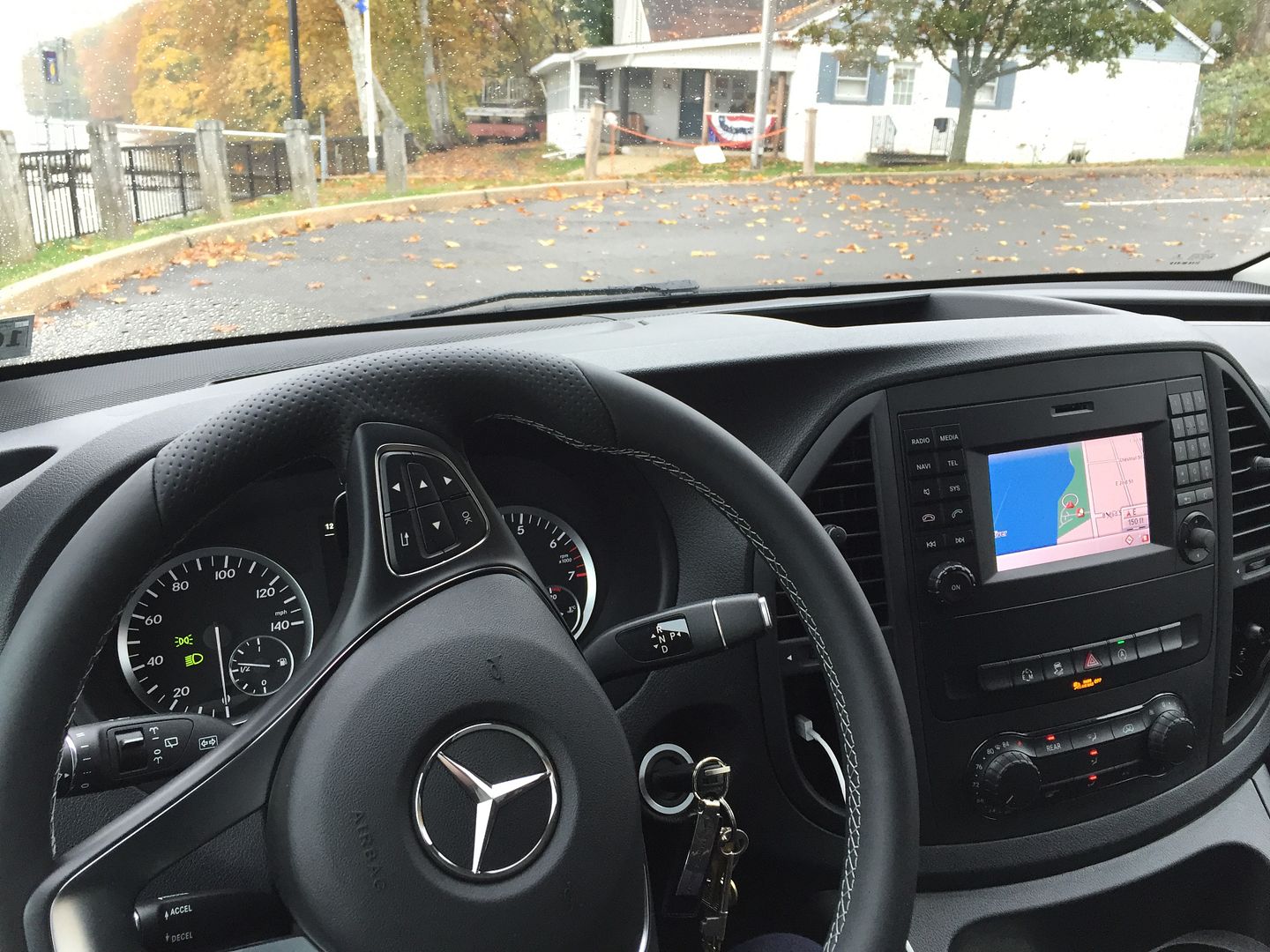 The controls are extremely intuitive. If you have driven any mid-2000s or later Mercedes, everything works exactly as you'd expect it to. If you drove one before that, everything but the stereo and the location of the cruise control (below the combination switch rather than above it) should be familiar. The Tempmatic Air Conditioner works great, automatically regulating the temperature of the air coming out, but requiring manual setting of air routing and fan speed. Tri-zone automatic climate control is optional.
The Becker Map Pilot gets a lot of panning on the internet, and I'm not sure why. I mean, yeah, its an expensive option, and Garmin's Nuvi series of PNDs are generally as good or better for less. But that's practically any car company's factory navigation system, too. But so far I have liked it. Two things, though. First of all, one common complaint I hear is not figuring out how to adjust the volume- when its not giving instructions, the cars volume controls adjust the stereo volume. When it is giving instructions, it adjusts the navigational guidance volume. The other major complaint I hear is the voice recognition stinks.
I thought so too. Until I figured out that you set the state manually, and then state the number, street, and town. If you say "1 Mercedes Dr, Montvale, New Jersey" it won't understand you. But if you were looking in New Jersey, and said "1 Mercedes Dr, Montvale", it will get you almost every time. Better than my voice operated Garmin, in fact. I'm sure that the fact the car automatically shuts off the HVAC fans and mutes the music has a lot to do with it. Faster, too.
Garmin: Voice Command; [pause]; VOICE COMMAND!!!!!; [pause] ICE CREAM MAN!!!!!; [pause] [beep]; Find Address; [pause]; FIND ADDRESS!!!; [pause]; FIND A DRESS!!!; [pause] [beep] [State An Address In United States]; One Mercedes Drive, Montvale, New Jersey; [pause] [beep] [Would you Like to Begin Navigation?]; Navigate. Schiesse.
Becker: [Push steering wheel button] [pause] [beep] One Mercedes Drive, Montvale [pause] [press control knob] [pause] [press control knob].
As for the stereo sound… its about the same as in my 2005 ML350. Which is really something of a complement since that was equipped with the high-end Bose setup. Good range, good clarity, good power. I mean, its not the Burmeister system in the S-Class, but its just fine for my purposes. When I get a hi-fi recording of Wagner's Flight Of the Valkyrie, maybe I can tell the difference. But I did run a good quality recording of Schubert's Die Forelle, and it sounded excellent, so- point being, the sound system is quite good. Its a nine-speaker set up, 4 in back, 5 in front, mounted to the same Becker head unit as the Sprinter, and similar to the unit used in the last of the pre-Command control knob cars.
The rear interior of the car is quite well set up, in some ways, and poorly set up in others. The rear seats are, as far as I can tell (I will test this soon) interchangable. That means that the two place bench is essentially 2/3rds of the 3-place bench. It is a bit narrow for two people of American-style girth. You can fit, but your butts will be, perhaps, hanging off a bit. Three American-sized adults will likewise find the third row a bit tight in width. In terms of leg room, it is extremely spacious- if they have narrow bums, you can fit 5 (or six) 6'4" men in there. If you plan on carrying more than five adults (including driver) regularly, however, I would suggest getting the 8th seat. That way you can carry two on each row in comfort, or more in slightly less comfort. If you are looking to carry more than six adults regularly, however, I would suggest the Sprinter.
Like the front seats the rear seats are very much Teutonic comfortable. They are firm, well shaped, and generally quite supportive. Each place has a two-way adjustable headrest. There are four ISOFlex child seat anchors (left outboard and center seats of both rows). There are roof mounted vents on all four outboard seats, which can be completely closed or adjusted for air flow direction. All four outside seats have damped grab handles.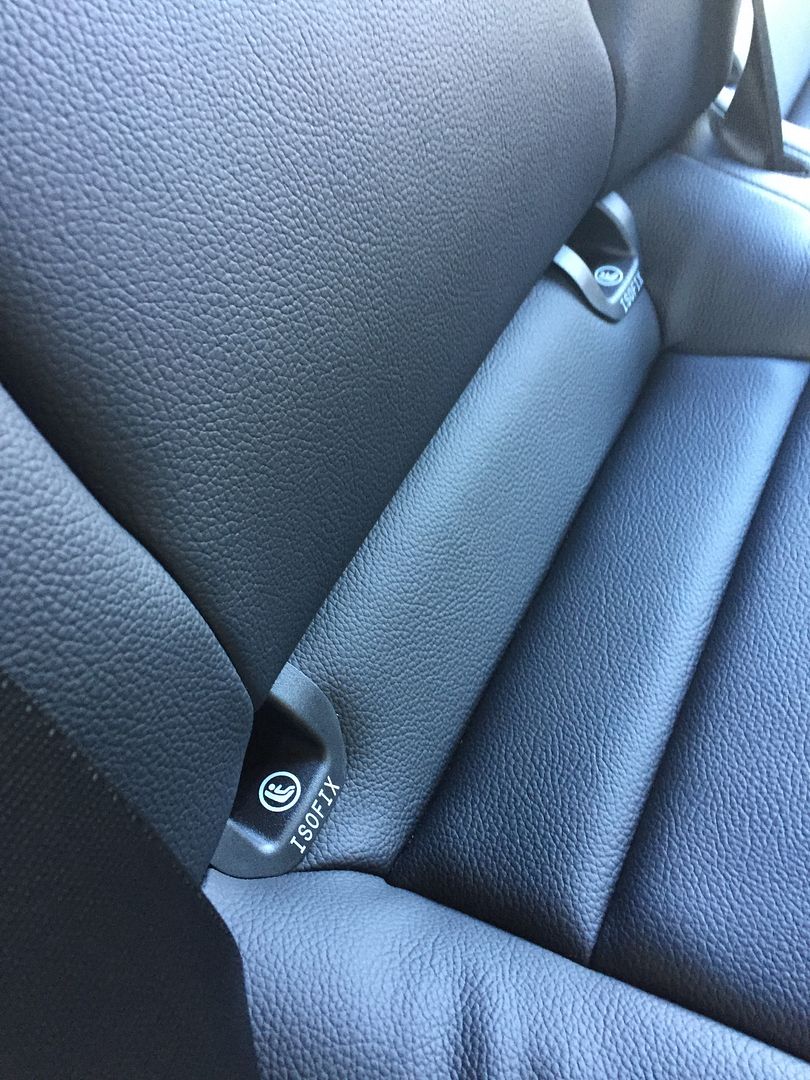 My car, as I mentioned before, is not equipped with carpeting. I am pleased to find out that it does have those metal tracks, however, as opposed to the pockets in the brochure. While they give the false appearance of adjustability, they also raise large and heavy object slightly off the plastic matting floor. This decreases the chance of damage to the floor covering over time, and gives you a smooth and easy surface to slide things in on, rather than the somewhat tractive when dry plastic. (Its quite slippery when wet, however.)
As for removing and replacing the seats, I have a tutorial for that
Tutorial
.
There are two models of backup camera. The cars equipped with swinging doors get a simple one that is fixed next to the license plate light. The one in the tailgate, though, is way cooler. It is mounted on a moving flap, which tucks the camera away when it is not in use.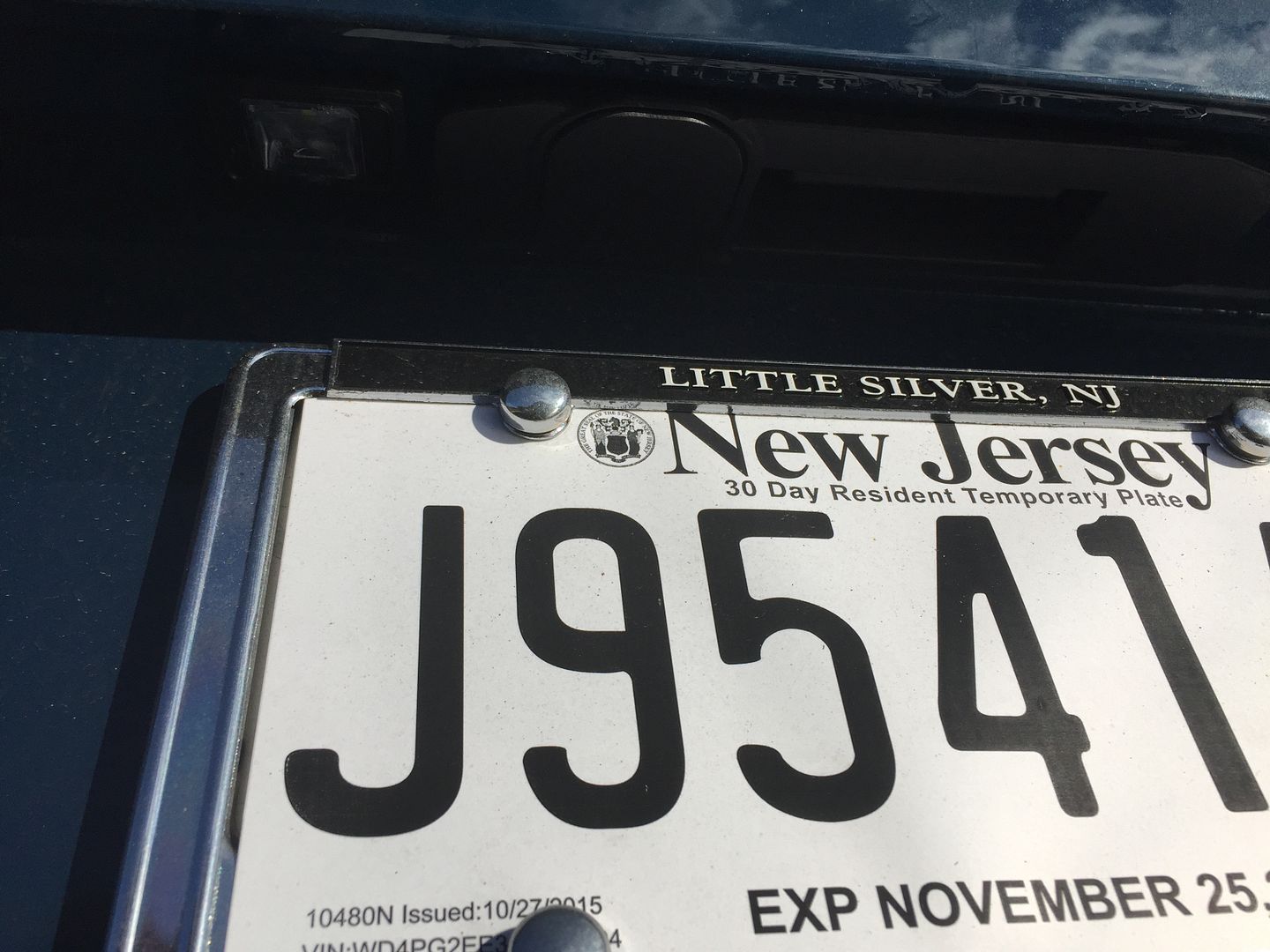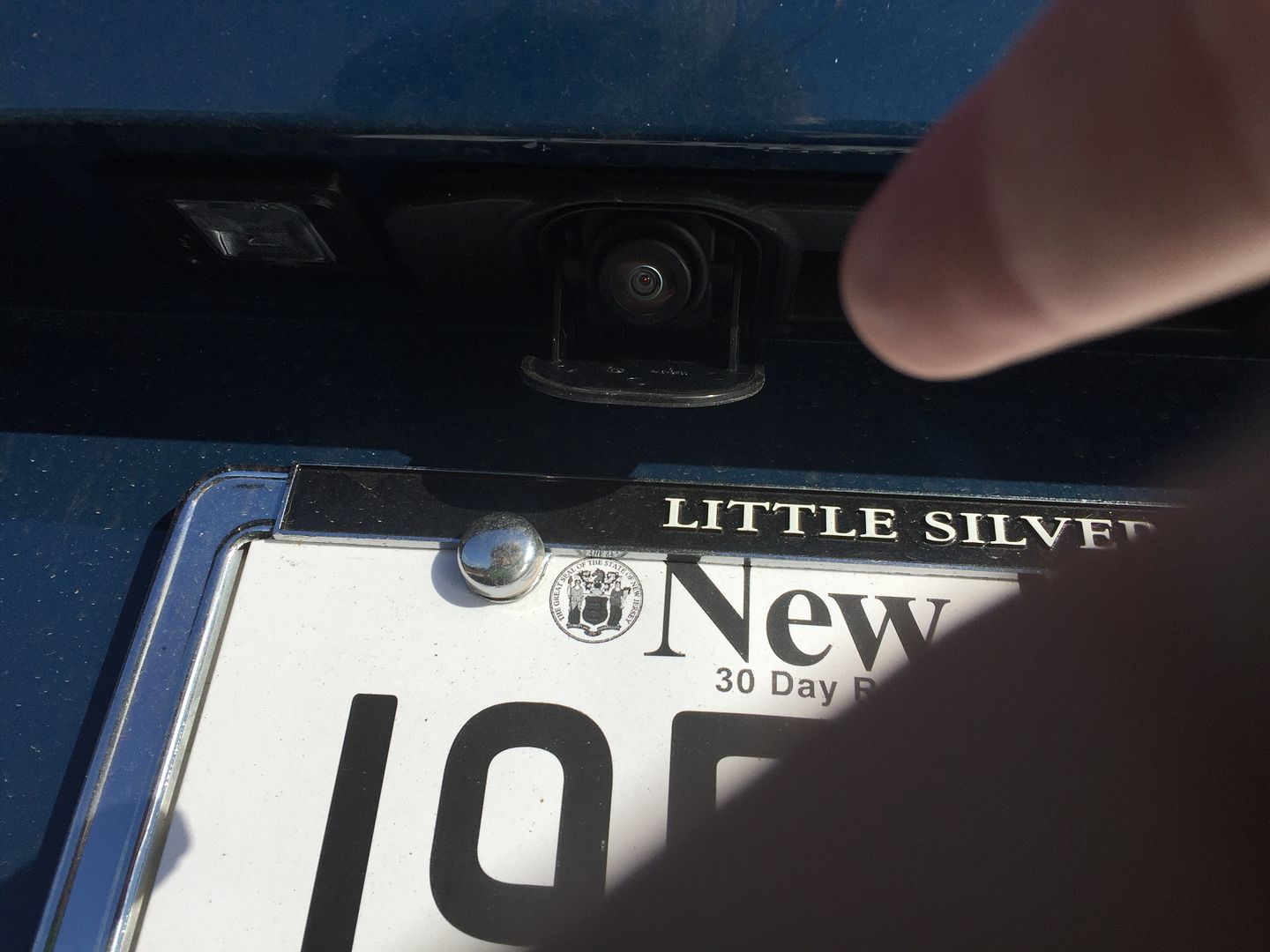 As for driving impressions, the car basically drives just like I said. A Mercedes-Benz writ large. You know you are driving a big van, although most of that impression comes from height. Calling this a minivan as some reviewers have done is neither fair (its built for commercial use, and minivans aren't) or accurate. The dimensions online don't really demonstrate this car.
First of all, the floor of this car doesn't even come up to my knee. In fact, it is about at my upper shin, much lower than that of other minivans (remember, the Chrysler vans floors need to contain their seats when folded!). That tailgate is fully flat, and when open, a man about 6'4" could stand under it and not hit their head.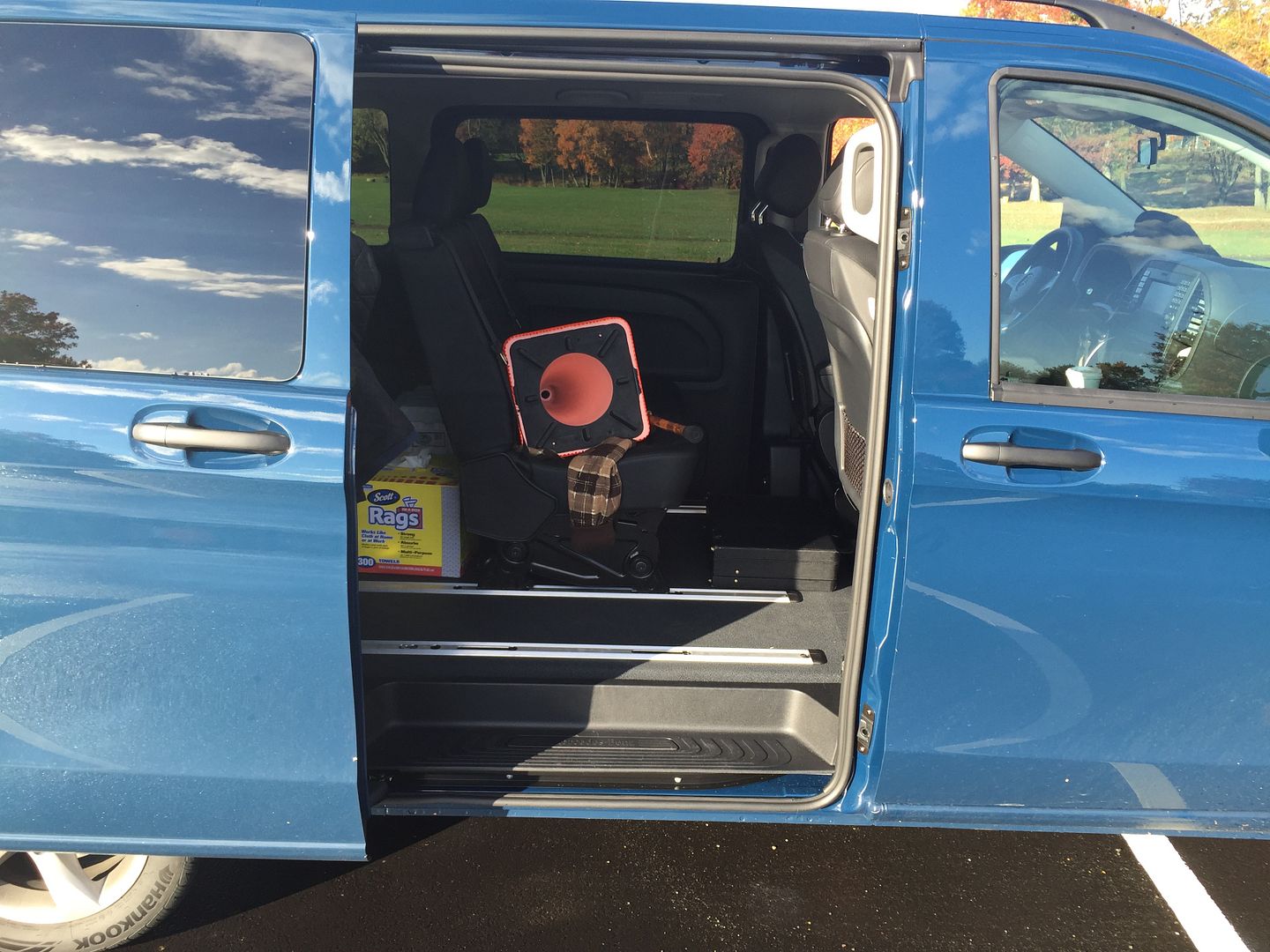 This door opening is about 6 inches wider than the Chrysler Town & Country. Besides Sprinter Class vans, this is the only vehicle I can enter forwards, with my 325lb girth. The reason this doesn't look that way in the picture is that its hard to explain this vans considerable height- ten inches taller than the Chrysler- twelve when equipped with the roof rack.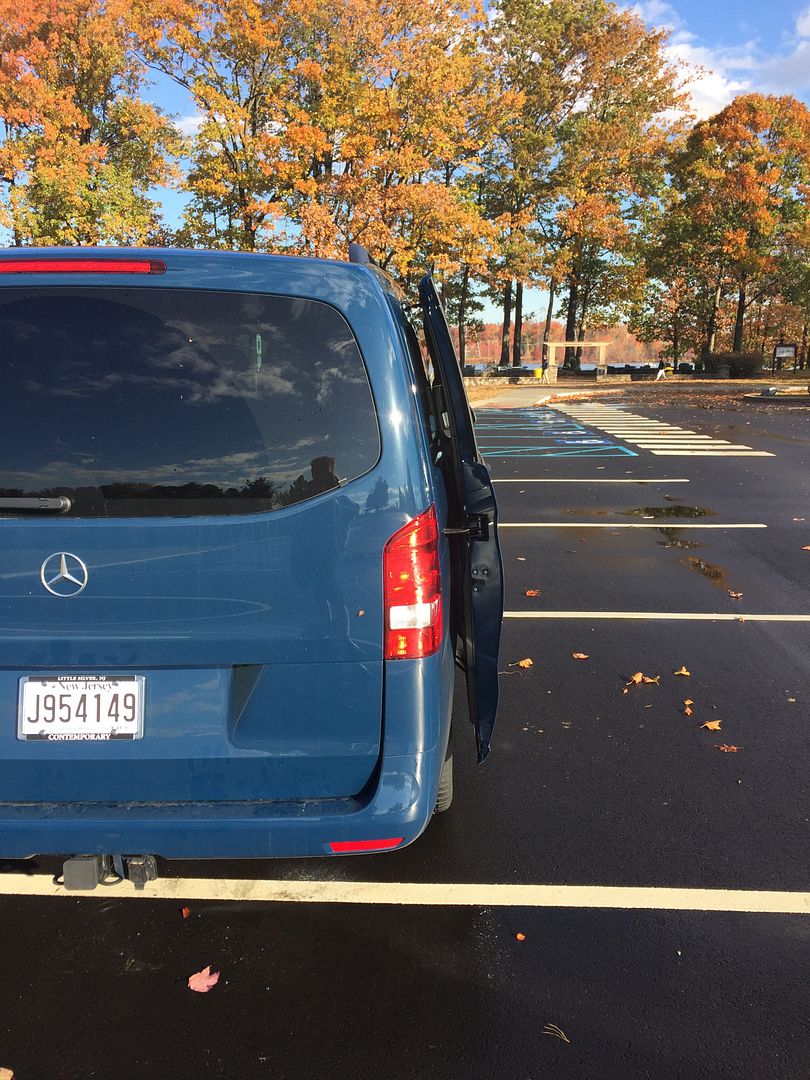 Chrysler's
van is .8 inches wider, but as you can see it has a lot more tumble home, and the interior trim panels are much thicker.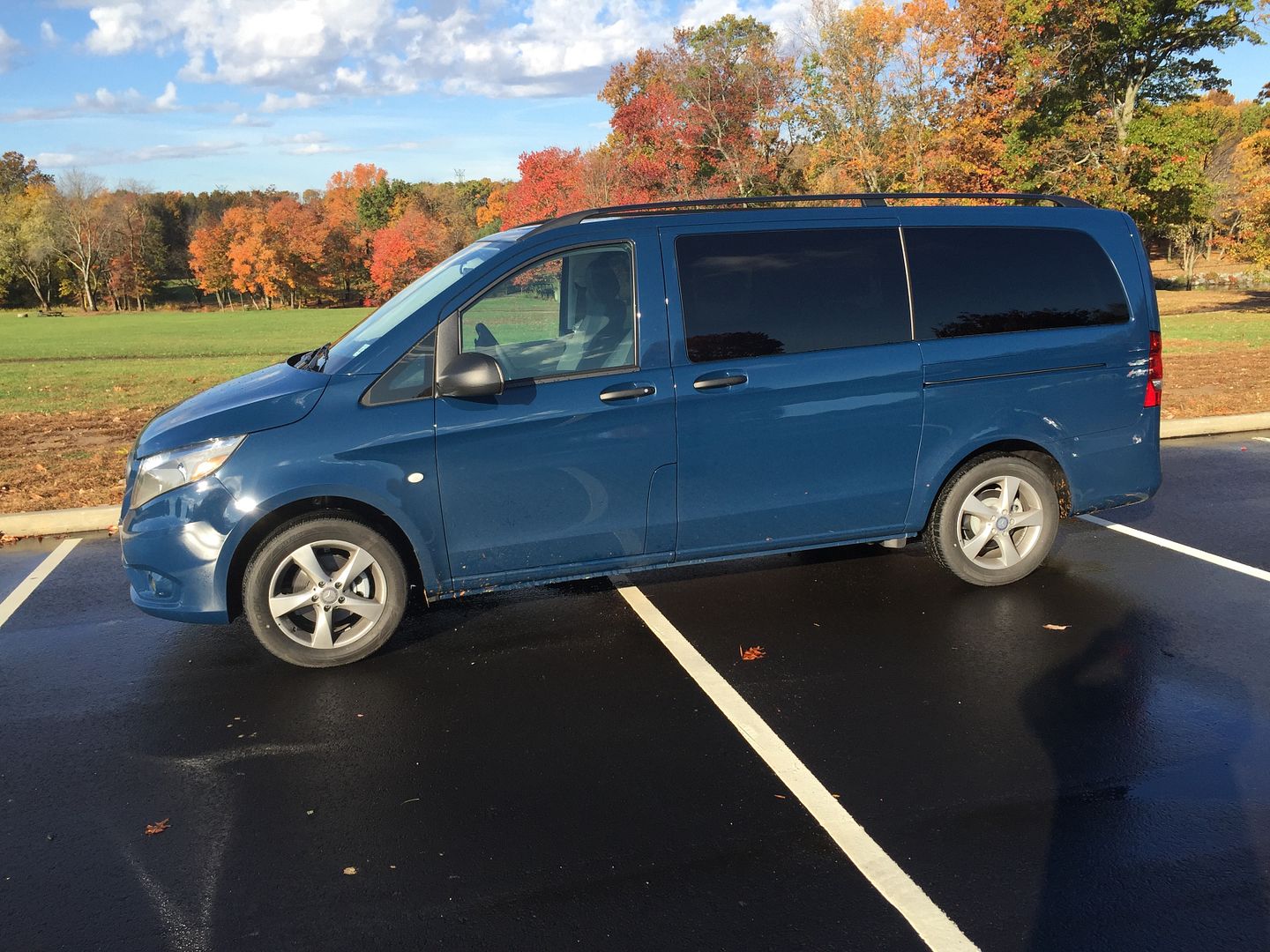 The
Chrysler
is documented as being .1 inches shorter, but look at how much of that space is taken up by a much farther back seating position, a lot of rear tumble home, and a protruding bumper.
This van is, in fact, a much larger vehicle than the Chrysler. You sit much higher than in the Chrysler, too. And that gives you a distinct sense of size. Or to put it in even better perspective… the tires on the T&C are 225/65R17, and on the Metris 225/55R17. The wheels are the same size… and the tires are slightly lower profile.
I don't know if I missed anything... but if you have any direct questions about it, I can probably answer them by walking outside and checking. I'll reply as soon as I can, but I might be out driving.
I am finding the car a pleasure to drive. The visibility is truly exceptional, the spaciousness of the driving compartment is immense. The car is quiet, refined, and smooth riding… like a Mercedes.
In truth, this car reminds me of the Mercedes-Benz 240D model of the mid-eighties. That was essentially the E-class Mercedes, but with a small engine and none of the "luxuries". This is in many ways the same thing. The comfort, safety, engineering excellence, and quality you expect from a Mercedes-Benz, but without any of the frills.
In essence, exactly what I was looking for.