After installation of front LED headlights /different post / I have decided i will try V-class LED tail lights .
I got these from aliexpress:
As you can see turn signal is dynamic . when i installed them quickly realized they dont work on metris .
the reason is in europe tail lights have separate lights for night , brake and signal . here metris has all 3 in one bulb . oh well, DOT is only 30+ years old .
it gave me all sort of lighting problems .
For instance: turn signal on - night light and brake light are flashing / exactly like we have it on original tail lights because it is same connector / ,
same was when i turn night lights on and signal on as well / exactly like OEM tails /
but when i press brake pedal , the yellow led signal strip "alived" and start working like in the video above.
anyway, as mentioned above it is impossible to make turn signal works like in europe without major electrical work. which i was not willing to do .
So only option is to disable the little led strip . I have located pin for the yellow signal strip on the LED tails and bent it .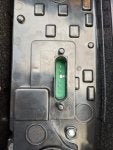 and with this little trick i managed to resolved all problems. even side marker light error on dash disappeared . fog light reverse lights all work.
Although i had to modified my original plan i am extremely happy with the result. the led lights are fantastic bright and now the van look like it suppose to .
you be the judge :
New video by Rony B
if you have barn doors you have to cut piece of plastic for cables . dont think this apply for lift gate .
here is one night picture