Discussion Starter
·
#1
·
Why am I comparing the Metris and the Chrysler Town & Country? Because that is what Enterprise gave me as a rental while my Metris is undergoing reconstructive surgery. Also, because the Ram C/V Tradesman was one of the vehicles I briefly considered when planning to purchase the Metris (the others being the Fiat 500L, the Ram Promaster City and the Sprinter Crew Van). Never got to the point of test driving it- my friend had a 2009 Dodge Grand Caravan which is basically the same vehicle with a more pathetic engine (his is the stripper-base-super-stripper-Jewish Scotsman*-Special) that he bought new for a whopping $16k back when Chrysler thought they were done for, and its fast deterioration was a nix.
It has been some years since I have rented a car- I haven't been in an accident in ages, my dealer gives me Mercedes loaners, and my vacations have been by train to cities with excellent public transportation and super-expensive parking garages. When I did rent cars, it was always a toss up between the Ford Crown Victoria/Mercury Grand Marquis, and the Lincoln Town Car- with the only exceptions being a Kia Rondo (I was under my parents insurance and they had skimped on the rental reimbursement) and once, in Florida, a Cadillac DeVille. I've rented lots of vans and trucks, but I didn't think I wanted that as my daily driver. I think next time I'll go with a full-size van.
I hadn't realized that the interior of most cars have gotten so cramped. Oh, it isn't that the cars have gotten smaller, or even that interior space has gotten to be overall less. It is that the design as gotten dumber. Consoles have become pointlessly wide, the door panels puff out just where I want to put my knees, and so forth. I would have loved a 6-passenger sedan, except nobody makes those anymore. I had actually specified a Cadillac XTS, but I didn't like it because of the way the center console was laid out and the fact that it was so low with a submarine-like outward visibility. The Chrysler T&C was the same per diem, costing $1.50 per diem over the insurance reimbursement, which Enterprise waived.
On to the the T&C. I fit in the driving position, although I also felt and think it a bit too low. Note: if you drive a Metris, you will generally think that anything short of a full-size van's seating position is too low! The steering felt heavy as I left the rental lot- but if you drive a Metris, I think you will find everything's steering too heavy.
My mom has told me that one should start out a review with a compliment. I can give the Chrysler Town & Country a compliment. The hallmark feature of Chrysler Corporation vans since the feature's debut remains an engineering marvel- stow and go. With a Metris, two strong people can curse and scream and convert a passenger version into cargo carrying mode (with 50% more capacity than the T&C- just saying!) in 10-15 minutes, providing they have somewhere to stow the seats. With Stow 'n Go, my less-than-5-foot wife and my screwed up back can turn the T&C from a seven-seater van into a cargo van in under 2 minutes, with most of that time being walking from the side to the back.
However, the Stow 'N Go feature reminds me of the compromise I made when I semi-retired my 1995 E300 Diesel and sold my 2001 GMC T6500 box truck and bought a 2005 ML350 to be both my personal car and a store-fill-up vehicle. Forgetting the quality problems that were striking Mercedes at the time, the ML350 was too big and too truck-like to replace a Mercedes E-class for driving duty, while it was too small- and as it turned out, too weak - to replace a cargo truck, even though I was only doing store fill ups instead of transporting my store around. Stow 'N Go throws out everything else in the name of flexibility.
The seats are thinly padded, and poorly shaped, because they are designed primarily for the purpose of folding. They are outrageously uncomfortable- the commercial-grade school bus seats in the Metris are infinitely more comfortable. They feel flimsy as all heck- fear of collapse in an accident is quite real (we can all agree, even Vadim, that the Metris seats do not feel flimsy!). And yet, the floor of the van is quite high, compromising the vans ability to haul cargo. Yes, the Metris is a bigger vehicle, but given that it is only 10" taller, and on roughly the same foot print (the Chrysler is actually slightly larger in every other dimension), and some of that height is taken up by higher ground clearance and a driven independently suspended rear axle, you can begin to realize that Stow 'N Go makes the vehicle bad for either of its designed applications.
During a previous minor damage repair (a truck threw a rock on my A-pillar and dented it) I had gotten a Dodge Grand Caravan SE that was similar but more stripped, for two days. First of all, I only had it for two days, and only put on about 700 miles. Second of all that car felt less irritating, I think because it wasn't pretending to be anything but the second cheapest minivan on the market, and third cheapest van (after the Nissan NV250). Its essentially a slightly better equipped variant of the Grand Caravan American Value Package, Chryslers long tradition of offering cheap strippers for misers ($23,500 before lots of incentives).
The Chrysler I have had for a week now and have put 1200 miles on it. It pretends to be a pseudo luxury-car. First of all, plastichrome adorns all kinds of parts of the interior. The wood-u-believe-it (only if you're half-blind!) trim, plasti-chrome, and barely-leather combined with the awful tri-zone auto-climate control (I can't ever get it to keep a solid temperature, and I have to keep adjusting the fan speed manually as I boil or freeze) and the touch-screen radio (no nav, just touch screen!) are intended to give a showroom impression of luxury. Its less than skin deep.
First of all, leather. I like leather. Among my collection of car-seat based office chairs, I have a Volvo S60 with top-quality Swedish leather adorning all seating surfaces and the head rest with vinyl on the seat back and sides. I also have a (very rare) beige leather seat adorned with top-quality Connolly leather from a Volvo 262c Bertone (the car was rare- and only about 5% of production had beige interior trim, as the rest were black). Those are leather seats. Legally, what's in the Chrysler qualifies as a leather-trimmed interior. The steering wheel, gearshift knob, and top and outer panels of the front seat armrests are covered in a low grade top-grain leather. The center patches of the driver and passenger seats (not the outer bolsters) are a low-percentage bonded leather (bonded leather is a collection of leather scraps bonded to vinyl, and usually then embossed with a leather grain- real leather grain is not knobby). The whole rest of the seat- outer bosters, headrests, backs, are vinyl. The rear seats are all vinyl.
The upper door cards of the front doors are made of semi-softtouch plastic. The upholstery panels and armrests are vinyl wrapped. Everything else is hard plastic.
Yes, I know the Metris's interior is hard plastic- of a much higher, intended to be durable quality. The Chrysler's hard plastic is just plain cheap, although intending to look nice. There is honesty in the Metris's interior. It does not pretend to be anything else than a commercial grade truck. The Chrysler's interior?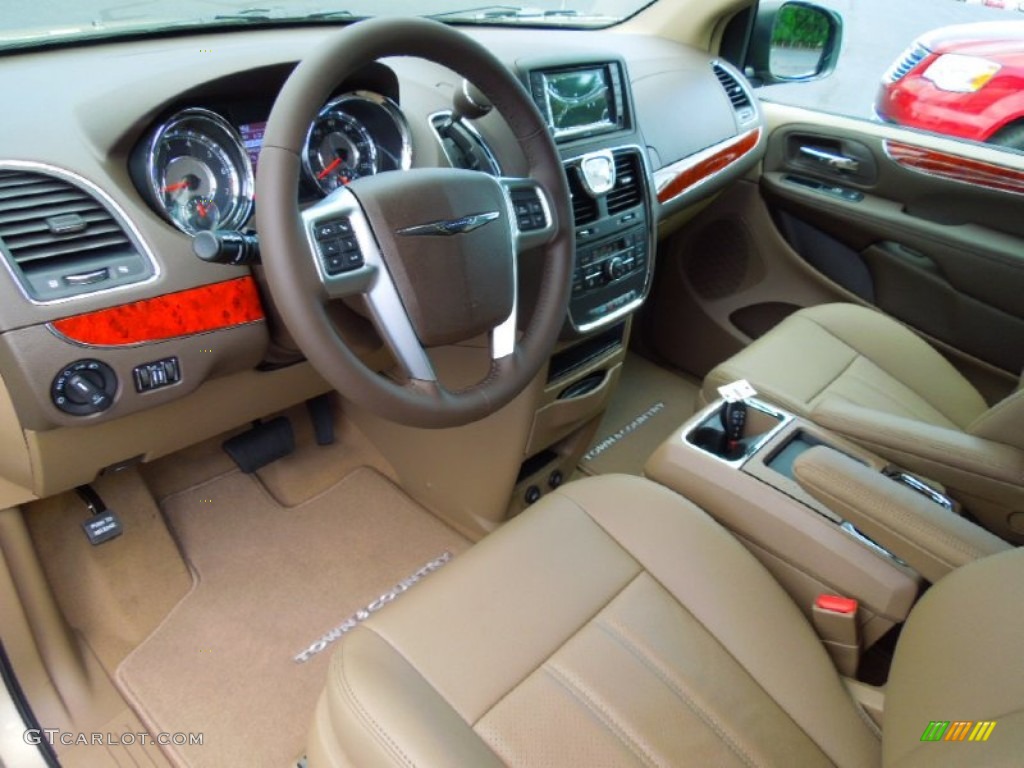 That is making promises of luxury, which it doesn't deliver. In addition to the poor quality of the materials, the front seats (which don't stow, and therefore have no excuse) are supremely uncomfortable. The design of the headrest and seat back are not compatible. You can't adjust the headrest to support your head in normal driving, and a pronounced gluteus support bar (who the **** needs gluteus support on the backrest, anyway?) requires a seat back angle that is inadequately upright for either my or my wife's taste. The lower cushion is of that soft foam that was common in older American cars, but the seat had inadequate thigh support and width for that to be comfortable. The angle adjustment for the bottom cushion is also inadequate for the driver- Chrysler does not see fit to provide height or angle adjustment on manual passenger seats. The lumbar support is in the wrong place for my back, and is only adjustable fore and aft. My wife resorted to taking a pillow from our home couch.
The steering wheel is poorly shaped (its a vaguely triangular lopsided circular cross section) with no specific grip locations. Holding it becomes uncomfortable quickly. The radio is acceptable, but the controls are aggravating to use, and it does not automatically switch to a plugged in cellular device. It instead automatically switches to a "preview" feature of the XM satellite radio, which will play anything from something I like (I caught Frankie doing "Come Fly With Me" once) to things I want to shoot the car for (deathmetal or obnoxious variations of violent or gangsta rap).** Everyone is entitled to like music, but if I was creating a preview station it would be of a variety of music that covers a gamut, but would never offend any reasonably open minded person. The speakers are generally speaking tinny and offer limited range, except for what too many musically deaf people seem to think is good sound- super-heavy bass. Finally, all of the controls (including some that are clearly Mercedes-logic inspired, like the combination wiper/signal/bright stalk on the left side of the column).
Finally, the power tailgate and sliding doors. Oh my god. I mean, they work as intended. But when I try to open the rear tailgate, I suddenly wonder if the government installed some kind of nuclear facility back there. BEEEP BEEEP BEEEEP! The doors don't do that. But both are so slow as to be a joke. It reminds me of this idiot I got into a fist fight with in high school- his punches were so slow, I could have went out for a snack between when he threw it and it connected with the wall behind me because I had strolled out of the way. I got fed up and kept trying to deactivate the system and open them manually-which is a pain involving multiple tugs of the handle.
To compare with the Metris, besides the quality of leather wrapping the steering wheel and the headliner, there is nothing that even suggests luxury in the Metris. But everything seems to be assembled of quality material (Tony's warping dashboard notwithstanding), with excellent tactical feel. The steering wheel is perfectly shaped for throwing the van through traffic and tight places for hours. The driver and passenger seats, as equipped in my van, are the most comfortable for a non French or Swedish car I have ever experienced. My manual climate controls actually give me a pretty good set of options for air blowing on me. The spaciousness is exceptional. And the non-touchscreen stereo may look dated, but it is very easy to use, and the sound quality from the 9-speaker system may not measure up to a Burmeister-equipped Mercedes luxury car, but it is as good or maybe a tad better than the Bose-system in my ML350. My car has manual doors- I don't know what the power doors on the Metris are like.
Driving it? The Town & Country has a naturally aspirated DOHC 24v 3.6 liter Pentastar V6 making 283 bhp and 260 ft-lb of torque driving the front wheels through a 6-speed automatic transmission. That would be, 75 bhp more and 2 ft-lb of torque, and one less gear, than the Metris. It also has two more cylinders.
The first thing I noticed when driving it is that its loud. Now, on a hot day with the A/C on, the
Metris can make a loud noise, similar to a Kirby Legend II (its a bit more frenetic than a Oreck XL Commercial, a bit higher than an Electrolux 2100, quite a bit quieter than a Royal Commercial Upright, and less gravely than a 1952 Super Chief, so yes I really do mean a Kirby Legend II!). That's not this Chrysler. No, this Chrysler's engine was loud in a gravelly, grumbly, roary way. It also shakes at idle.
In terms of acceleration, Edmund's lists 0-60 at 8.2 seconds vs C&D saying 8.4 for the Metris. I actually think the Metris is a tad quicker, but all kinds of things can account for that- including bias. Even so, my Metris weighs in at 5150 lbs with my wife and me on board, and a Town & Country would weigh ~4920 in the same circumstance. Given that the Chrysler T&C has a performance advantage of 75 bhp, 2 ft-lbs, 1613 cc of displacement, and 230 lbs of weight, they shouldn't even be close.
I thought I could explain this by the fact that the Metris makes full torque from 1200 (just off idle) to ~ 4600 rpm (on a redline of 6200). But the Pentastar makes 210ish at 1200, and quickly ramps up to 250ish at 2000, so it really doesn't explain it at all.
Then there is the transmission and at speed throttle response. The T&C clunks around on acceleration, shudders on decelerating to a stop, whacks you in the backside on shifts (sorta like an old 4G-tronic, but harsher) and hunts on hills. The car also is insanely slow to respond to throttle in the ordinary eco mode (it switches on after every restart) and is merely very slow when you angrily punch that off. I keep wondering if I am going to detonate this transmission, frankly. I am sure you are all quite aware of the smooth, seamless, and effective nature of 722.9+'s performance in aggressive driving.
In terms of at the limit handling, the T&C would probably have seemed fine to me prior to driving the Metris. Its a van with a suspension supposedly designed for family comfort. People don't run slalom courses in the family minivan with the kids aboard. I don't push the Metris to its limit often, out of respect for its weight on its suspension and shocks, but when you do push it there, it responds like any pre-W201 Mercedes with a semi-trailing arm suspension (no, it doesn't have the control of a Mercedes-Multilink suspension, but nothing does!). Despite the Metris's considerable height, I have never worried I was going to roll, only experienced unwanted understeer once (easily solved booting the throttle and kicking out the tail). And when you dial back from 10/10ths to 9/10ths it becomes typical Mercedes unflappability. In panic braking, the Metris either goes straight as an arrow, or it goes wherever you point it, no matter how many bumps or potholes you encounter.
The Chrysler didn't have that, nor did I expect it. The steering is twitchy and suffers from torque steer, a factor of 250+ torque going through the front wheels. I'm sure all the FWD minivans suffer from this. The body roll on the Chrysler was worse than I experience on the Metris. This is, like the engine performance, bizarre. The Chrysler stands at 68" height with its standard roof rack. The Metris with roof rack is 76.3", or 8 inches higher. I also sit higher in the Metris (4.5 ratchets on the seat) but lets stick with 8. 8 inches in additional height means that the Metris has a greater distance of movement for my head at a given roll degree. For the Chrysler to actually be feeling like its rolling more, it must be rolling a LOT more.
Finally, there is the the little snit I found myself in going on, I think, I-795 out of Baltimore yesterday. My Garmin Nuvi started screwing up, and I handed it to my wife to get her to reset it. In that split second of looking away, the car in front of me slammed on its brakes. I noticed, and slammed on my brakes, quickly realizing that I was not going to stop in time. I was in the right lane, and so I swerved onto the shoulder still braking heavily. Thankfully the front tires did pull the nose away in time, but then the rear end started twitching and swung wide, then back again, several times. I didn't hit anything, and was able to bring the car to a stop. I attribute that to my driving skill (which is about car control and is separate from driving stupidity, which is about being dumb enough to take ones eyes off the road in traffic while handing a Garmin Nuvi to ones wife).
I have had that kind of thing pop up over the course of my driving career in several cars, all of which had ABS brakes. (God help one who gets into the particular situation without ABS brakes). The cars included in that are the Metris, my ML350, and my E300. Those three vehicles swerved onto the shoulder (or in the case of the Metris, hopped the grassy median into the left turn lane I had been intending to go into before the car in front of me inexplicably stopped short 4 car lengths away from the car in front of him, and half a car length before the left turn lane entrance) without any drama, without kicking the tail out, and without wagging from side to side under braking. The Metris and ML350 were equipped with stability control, the E300 was not. The Chrysler, as legally mandated now, was. It required considerable driver intervention beyond making the decision to dive for the shoulder, whereas the other three cars mentioned required NONE.
I knew that safety systems are not created equal, although I rarely see any reports pointing this out or rating them. Not just airbags, seat belts, or semi-autonomous braking, but also things like traction control, stability control, and ABS. I know I shouldn't have taken my eyes off the road, and I also know that I was in considerable pain and discomfort due to the front seats (front seat comfort, god damnit, is a freakin' safety feature!) but the fact of the matter is, the Town & Country's driving faults go way beyond refinement and comfort. It also goes way beyond all out handling capability of the aggressive driver. It lacks those things, but all out handling capability in aggressive driving is not important in a minivan.
But I tend to think myself a vigilant driver. I don't talk on my cell phone without hands free, and almost never do it with, and I sure as **** don't text! I almost never look at my passenger while driving. A lot of drivers, I suspect, do it a lot more than me. I also know for a fact that very few drivers understand even basic car control. They are taught how to steer, not how to drive. As such, the safety systems on a car designed for those ordinary drivers, who can't control their cars well, who talk on their cell phones, who text, talk to their children in the back seat, and so on, need superior safety features. They need to be able to allow the driver to make the decision to swerve, and carry out the maneuver without the driver needing to concentrate on how to control the car.
I therefore conclude that this comparison test, really, is something of a mistrial. The Metris meets the basic requirements of a decent vehicle. The Town & Country fails that basic test. It is unrefined, badly designed, cheap feeling, and most of all, unsafe. Not only does it have a higher propensity to get into an accident than a Metris, but it is less likely to protect its occupants when it does so.
I find this especially pathetic, since the Town & Country platform that this car uses was designed and engineered under the auspices of DaimerChrysler.
*Reference to the Studebaker Scotsman of another, less P/C era- and I can make fun of my friend and myself!
** Don't get me wrong. Everyone is entitled to like or dislike what they want in music. I personally don't like high tempo, high percussion, high pitched warbles (aka screaming) and lyrics that are sexist, racist, or violent in nature. There is quite a bit of stuff that falls under "rap" that I happen to like, but there is plenty of stuff in that category that I hate passionately.